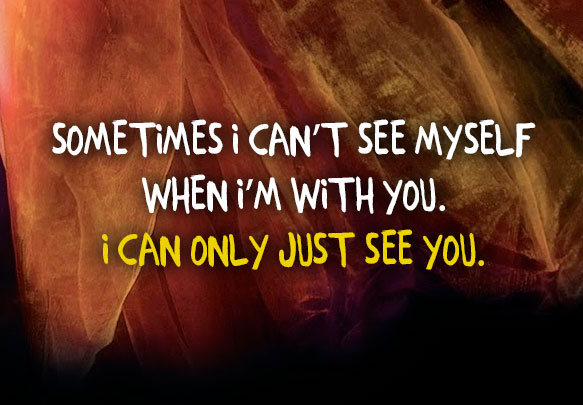 Love quotes... are the important parts of a movie, book or drama or even anime that somehow stays in our minds and makes us remember a special moment or a special someone in our lives. Here are just a few love quotes from books and movies.
Books:
"Sometimes I can't see myself when I'm with you. I can only just see you."
––Tiger Lily by Jodi Lynn Anderson
"No matter what has happened. No matter what you've done. No matter what you will do. I will always love you. I swear it."
––Defiance by C.J. Redwine
"I wanted to tell you that wherever I am, whatever happens, I'll always think of you, and the time we spent together, as my happiest time. I'd do it all over again, if I had the choice. No regrets."
––Boundless by Cynthia Hand
"And in her smile I see something more beautiful than the stars."
––Across the Universe by Beth Revis
"It's one thing to fall in love. It's another to feel someone else fall in love with you, and to feel a responsibility toward that love."
––Every Day by David Levithan
"I love you the way a drowning man loves air. And it would destroy me to have you just a little."
––The Crown of Embers by Rae Carson
"I'm in love with you, and I'm not in the business of denying myself the simple pleasure of saying true things. I'm in love with you, and I know that love is just a shout into the void, and that oblivion is inevitable, and that we're all doomed and that there will come a day when all our labor has been returned to dust, and I know the sun will swallow the only earth we'll ever have, and I am in love with you."
––The Fault in Our Stars by John Green
"I knew the second I met you that there was something about you I needed. Turns out it wasn't something about you at all. It was just you."
––Beautiful Disaster by Jamie McGuire
"If my love were an ocean,
there would be no more land.
If my love were a desert,
you would see only sand.
If my love were a star-
late at night, only light.
And if my love could grow wings,
I'd be soaring in flight."
––Thirteen Reasons Why by Jay Asher
"There is never a time or place for true love. It happens accidentally, in a heartbeat, in a single flashing, throbbing moment."
––The Truth About Forever by Sarah Dessen
"I don't care how hard being together is, nothing is worse than being apart."
––Starcrossed by Josephine Angelini
"I want to be the friend you fall hopelessly in love with. The one you take into your arms and into your bed and into the private world you keep trapped in your head. I want to be that kind of friend. The one who will memorize the things you say as well as the shape of your lips when you say them. I want to know every curve, every freckle, every shiver of your body.
I want to know where to touch you, I want to know how to touch you. I want to know convince you to design a smile just for me. Yes, I do want to be your friend. I want to be your best friend in the entire world."
––Unravel Me by Tahereh Mafi
"Love lets you find those hidden places in another person, even the ones they didn't know were there, even the ones they wouldn't have thought to call beautiful themselves."
––Wild Awake by Hilary T. Smith
"No matter where I went, I always knew my way back to you. You are my compass star."
––For Darkness Shows the Stars by Diana Peterfreund
Movies:
How lucky I am to have something that makes saying goodbye so hard.
-- "Annie" -
If I tell you I love you, can I keep you forever?
-- "Casper" -
If the people we love are stolen from us,
The way to have them live on, is to remember them.
Buildings burn, people die, but real love is forever.
-- "The Crow" -
When you love someone,
And you love them with your heart,
It never disappears,
When you're apart.
And when you love someone
And you've done all you can do,
You set them free,
And if that love was true...
When you love someone
It will all come back to you.
-- "Forget Paris" -
It doesn't matter if the guy is perfect or the girl is perfect, as long as they are perfect for each other.
-- "Good Will Hunting" -
I would rather have had one breath of her hair, one kiss from her mouth, one touch of her hand, than eternity without it.
-- "City of Angels" -
I'm just a girl, standing in front of a boy, asking him to love her.
-- "Notting Hill" -
The greatest thing you'll ever learn is just to love and be loved in return.
-- "Moulin Rouge" -
Life is like a box of choclates, you never know what your gonna get.
-- "Forrest Gump" -
In these dreams I've loved you so, that by now I think I know what it's like to be loved by you. I will love being loved by you.
-- "The King and I" -
Credits:
Epicreads
Romance From The Heart
Shared: LGBT Secrets & Confessions